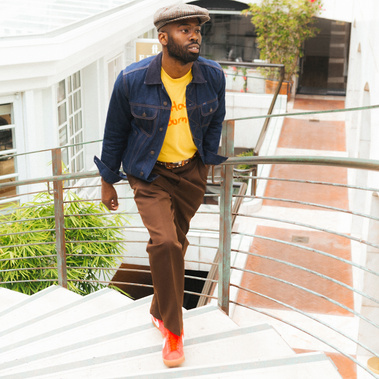 BIOGRAPHY
Spencer Edwards is a Toronto-based, multi-faceted creative mastermind, a rapturous charmer, and retired (but you still may catch him with the moves) Dancehall King, who thrives within the realms of multimedia storytelling and creativity. Honing in on subjects, places, artists, and brands, that he wholeheartedly believes in, Edwards has remained fascinated by the world of advertising since graduating from Fashion Marketing at Lasalle College in Montreal, Quebec. Falling in love with the many dimensions of brand and personal storytelling, Edwards has successfully immersed himself into photography, videography, social media content, and art direction, all while working towards his goals of defeating a Rubik's cube, improving his pool skills, and learning how to juggle.
"I truly love the process of everything involved- from conceptualization to being able to see the fruits of labor come to life. It's about seeing people's faces when they are excited about the final product, and a huge part of my passion is bringing people together. Creating cohesive teams, collaborating, building community, and taking part in constructing the overall 'bigger picture.'"
Artistically, Edwards' creative inspiration is often fueled by bearing witness to his client's passion for their projects and genuine elation towards accomplishing their goals. In parallel with each other, the two light a fire within him, encouraging the continuum of mastering his many crafts.
Throughout his career, Edwards has pridefully executed captivating projects with Juno Winning artist - Charmaine, Kallitechnis, Little Burgundy, The Redbull Music Academy, Giro D'Italia, Santa Fe Tourism Board, Soundcloud and Warner Music Canada. Edwards' work has been featured on platforms inclusive of ET Canada, Complex, Spotify, Apple Music, Amazon Music, High Snobiety, The Globe and Mail, Hot New Hip-hop, Okay Africa, and Soundcloud.
In addition to his client portfolio, Edwards is the founder of Texture Appreciation - a project stemming from self-facilitated photo walks in Montreal, Quebec. With a focus on encouraging individuals to be mindful and appreciative of the ubiquity of everyday textures in architecture, intricacies in history, and showcasing character through the lens, Texture Appreciation was a community-building effort with the intertwining of art and perspective.
Maintaining an open mind regarding concepts and themes, Edwards invites everyone to carry their creativity with them in hopes of sharing ideas to execute mind-blowing collaborations.
WONDERLAND MAGAZINE
ET CANADA
COMPLEX
SPOTIFY
APPLE MUSIC
AMAZON MUSIC
HIGH SNOBIETY
CBC CANADA
HOT NEW HIP HOP
OKAY AFRICA
SOUNDCLOUD
ALL SAINTS
SOSKEN
SOUNDCLOUD

REDBULL MUSIC ACADEMY (RMBA)
WARNER MUSIC CANADA
LITTLE BURGUNDY
ALDO
ASKMEN.COM
IMAGE MOTION
MLB (Detroit Tigers)
CARHARTT